Service Level Agreement – (SLA)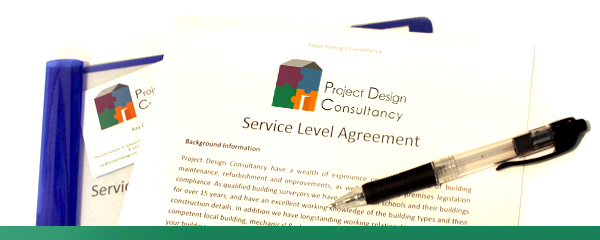 To guarantee help and advice is available whenever it is needed, Project Design Consultancy offer individual SLA's to allow schools and organisations to benefit from professional support as they require. For a set fee you will benefit from regular site meetings throughout the year with various members of the school or organisation management team to ensure all relevant legislation compliance is undertaken and demonstrated. This will include the setting up and managing of all mechanical, electrical and water quality service contracts.
Further advice and guidance on general building defects will also be given, with building repairs arranged if necessary. Access to our document library will also be authorised providing you with an extensive range of draft documents, risk assessments, training support and much more. Plus regular information on any related legislation changes and updates.
Our office will also be available 5 days a week to help with any issue you may have or to advise on building issues or emergencies.
We are now supporting an increasing number of schools in Plymouth and Cornwall, providing them with a unique 'one stop shop' for ALL their building related or premises legislation compliance requirements.
For further details on your own specific SLA please contact us to arrange a meeting to discuss your requirements.